Valparna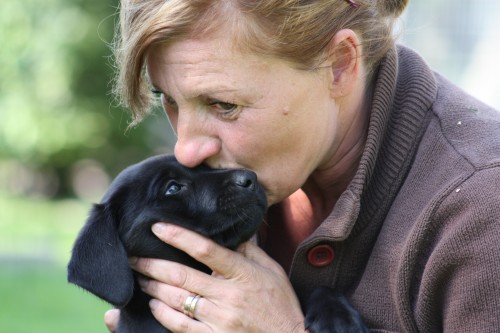 Valparna växer och veckorna flyger förbi. Cora och Reds sju små dvärgar Bashful, Sneezy, Sleepy, Happy, Grumpy, Doc och Dopey är flygfärdiga om ett par dagar och veterinärbesiktades ikväll av vår veterinär, den förträfflige Claes Carlsson. Alla valparna var friska och krya,är nu chipmärkta och vaccinerade.
Faye och Murphs valpar är en vecka yngre och skall således veterinärbesiktas torsdag nästa vecka.
Jag tycker om att ha valpar. De sista veckorna med dagliga skogsrundor, toalett-träning och allmän hantering är arbetsamma men de roligaste.
Snart skall Ni valpköpare ta över och börja ert liv med en riktig kompis. Förtjäna deras respekt och deras vilja att följa Dig vart du går. Att lära, att förstå, att lita på Er. De väljer inte vem som ska köpa dem, de skickas till Er att ta hand om, värna och njuta av!
Make much of me, your gundog pup, and when you think I'm growing up
show me what I need to do, to be a complement to you.
Be patient with my learning, which from my baby brain, maybe not be very fast.
Show me again the hunting, stopping, turning, and I will understand at last.
When you take me shooting, I will be tempted but will not chase.
Watch me close and guide me, to the pheasants hiding place.
And I will hunt and crash the brambles, jump the fence and swim the stream
Pick up and scramble quickly back, to the leader of my pack.
I will fulfill our dream!