GBFTW Meadowlark Pergite "Poppy"
född 2015-05-20
Gul tik
e. GBFTCH Kayteens Cruise
u. Meadowlark Kilkenny
HD A
ED 0-0
Öga ua 2016-11-30
Hereditärt fri från PRA och CNM
SD2 Carrier
J: 1 pr BK DRK
Godkänt Apporteringsprov RJK
UK Field trials Novice Yellow Labrador Club 2017 3rd
VP The Hawksbury Joy Cup för Best Looking Dog in the awards,
The Madford Puppy Cup för yngsta placerade hund i provet
The Edward Bird Trophy för bästa hund uppfödd, tränad och förd av sin ägare.
Clwyd Retriever Club All age stake 21.10.2017
1st och Guns Choice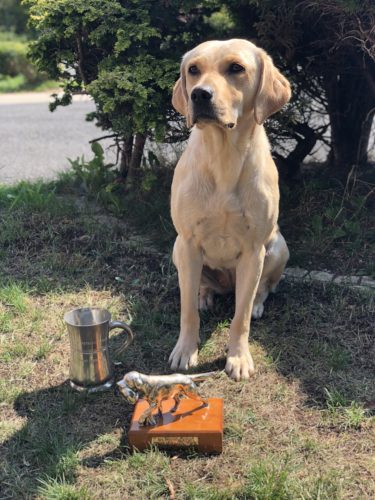 Poppy är en liten stjärna, syster till Yellow. Hon är alert, lättlärd och naturlig. Allt hon gör fungerar och hon är behaglig att ha vid sidan. Hittar lätt, koncentrerad och med en grym näsa.
En tik som jag tycker riktigt mycket om och ser fram emot att fortsätta tävla och jaga med!